STRENGTHEN YOUR BACK: PHYSIOTHERAPY FOR BACK PAIN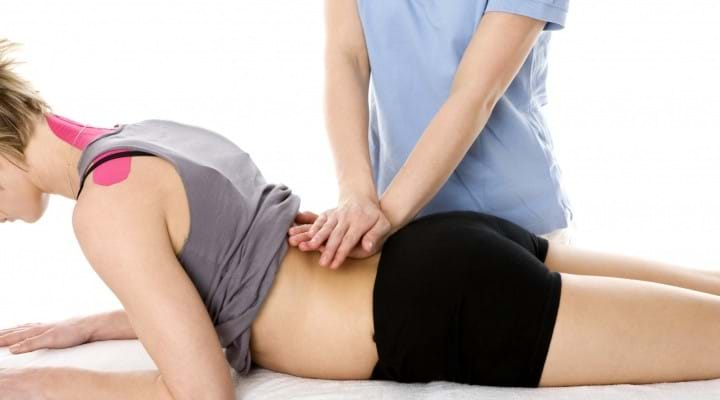 The back provides support to the body whether you live an active or sedentary lifestyle.
The more active you are, the more support your back needs but inactivity can also result in back problems.
To maintain the muscle mass and strengthen it, regular exercises are needed.
There are a number of activities you can undertake however it's wise to have a professional medical assessment first to receive a level of physiotherapy for back pain, especially if you are aware of instabilities..
Easy Physiotherapy for Back Pain and Other Back Muscle Problems
The following tips and exercises provide complimentary assistance to spine physiotherapy for back pain as they help strengthen muscles and preventing further back support issues.
The spine is one of the most critical structures of the body as it's the base for the other parts of the skeletal system. Each area is prone to injury and most people experience back pain at some point in their lives.
The goal of physiotherapy for back pain is to increase function, decrease pain and prevent future back problems from occurring. Common forms of physiotherapy include:
1. Passive physiotherapy for low back pain (modalities), which can include including heat application, ice packs and electrical stimulation.
2. Active physiotherapy for low back pain, which focuses on specific exercises that target the lower back and surrounding structures. These exercises can include mobility, trunk, leg strengthening exercises and a gradual return to activities via lower back physio.
If your local spine physiotherapist confirms these exercises appropriate for you, these may be done in the comfort of home during your free time.
1) Stand or have short walks after every 30 minutes of sitting.
You can set an alarm or a reminder to go off after every half-hour interval to notify you to get up and walk. Also, speak to your boss about getting a desk that allows you to alternate between sitting and standing.
Try to sit less than 8 hours a day. If, however, that's not possible, sit less than 5-6 hours a day on weekends and aim to walk 10,000-12,000 steps a day.
2) Do the plank.
This exercise looks simple but is a great way to strengthen your back, abs, shoulders and legs. Lie face down on a firm, flat surface, placing your weight on your forearms and toes.
Your body should not be touching the surface and keep your elbows aligned with your shoulders. Hold this position for 30 seconds and repeat three times.
3) Do hip bridges.
It strengthens your core, improves the flexibility of your back, and makes you work on your balance. Lie on your back and bend your knees, keeping it perpendicular to the floor. Let your arms lie straight at your sides.
Then lift your pelvis upwards until your body forms a downward slanting line. Hold for several seconds then slowly lower your pelvis back onto the surface. After, lift it slowly back up and repeat as many times as you can. See if you can do 10 in a row.
4) Try floor swimming.
How?
It's very similar to actual swimming minus the water. Lie on your stomach with your limbs stretched outwards. Raise, lower and kick your arms and legs in the air alternately.
Raise your right arm with your left leg and move your left arm with your right leg. Do it repeatedly for at least 20 counts.
5) Perform cat stretches.
Get on all fours with your torso curved slightly towards the ground and your limbs bent at your hips and shoulders in 90-degree angles.
Place your hands firmly on the floor then press your weight on your palms as you move your torso backward.
Do not move your lower body and keep your pelvis and legs firmly in place so your back bends upwards. This improves flexibility, endurance and reduces occurrences of back pain.
6) Do child's pose.
Kneel on the floor or on any flat surface with your feet stretched outwards. Bend forward until your stomach is lying flat on your thighs. Stretch your arms outward with your hands placed flat in front of your head.
Stay in this position for at least 30 seconds up to 3 minutes.
7) Do cobra pose.
Start with lying on your stomach on the floor. Tuck your hands and elbows against your body. Exhale and lift your chest off the floor whilst keeping your neck elongated.
Raise your head and shoulders upward as far as you can go, looking like a cobra ready to strike. Hold this position for 15 to 30 seconds, not letting yourself fall back down. Finally, lower your body slowly back down and return your upper body to the starting position.
8) Do push-ups.
These are not only great for improving upper body strength but also works your back. The key is to maintain your torso as straight as possible throughout the exercise.
Lie on your stomach on a firm and flat surface. Lift your torso upwards with your arms and hold your body straight with your toes also supporting the weight. Lower your body by bending your elbows sidewards until it's an inch or two from the floor. Then lift it back and repeat.
For optimum results, perform these exercises regularly or as your advises. Your back's ability to support your body in labour-intensive activities will improve over time.
While you might not perform manual tasks often, you'll notice the strength in your upper body and the greater absence of back pains.
I have lower back pain right now, what should I do?
At Melbourne Sports Physiotherapy our goal is to get you moving pain free as soon as possible. But, we also want you to actually move better and live a healthier, more active and fulfilling life!
If you are showing some signs of lower back pain or simply want to prevent this from happening in the future, then book in with one of our highly experienced physiotherapists. We can provide you with expert physiotherapy for low back pain in Melbourne.
For more information or for a personalised assessment for your back, contact our team today or book online. We have local physio clinics to help your back pain in Essendon and Blackburn.
1. Easy Physiotherapy Treatment for Tennis Elbow
2. What is ACL Physiotherapy & When Is It Needed?
3. Top 7 Benefits of Clinical Pilates - Melbourne
4. Physiotherapy, Chiropractic or Osteopathy: What's the Difference?