Physiotherapy for Hip Labral Tears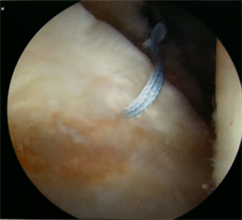 Labral tears in the hip are being diagnosed at an increasing rate, due to the increase of knowledge of the condition amongst practitioners.
Labral repairs (see the stitch in the labrum in the picture on the right) are now commonly performed by hip arthroscopy surgeons, with Melbourne becoming a major hub for hip arthroscopy.
As this surgery is evolving rapidly, labral repairs form a portion of the techniques and procedures available to an arthroscopic surgeon when operating on a painful hip.
The challenge for the patient and the physiotherapist, who is directing the hip arthroscopy rehabilitation post labral repair, is what to do as far as activity is concerned, and more importantly, when to start doing it.
Hip Labral Tear Physiotherapy
At Melbourne Sports Physiotherapy, we are very fortunate to have been working alongside some of Melbourne's best hip arthroscopic surgeons since 2010, and have the skills and experience to assist you in your recovery following labral repair.
Physiotherapists are very good at rehabilitating joints and limbs following surgery, in order to make a speedy and full recovery.
The issue with rehabilitation post hip arthroscopic labral repair, is that the hip joint can not be treated as per standard hip rehabilitation protocol, such as with a total hip replacement. Labral repairs need at least 6 weeks for scar tissue to form to allow for proper healing.
Once this has occurred, then normal exercise may resume (you must take into consideration any other techniques performed at the same time, as an isolated labral tear is rare).
Below are common mistakes made by physiotherapists which can delay and hamper a patient's recovery. Adhering to these restrictions can greatly reduce your discomfort and general rehabilitation time.
Please contact the physiotherapy team at Melbourne Sports Physiotherapy if you have queries or questions regarding physio for hip impingement, including labral repair or other hip arthroscopic surgery.
Common Mistakes Following Labral Repair Surgery
Avoid full range Clams, Bridges and Abduction exercises for 6 weeks following a labral repair. These are great pilates exercises in any other situation, but are contra-indicated post labral repair. This includes sidestepping in the hydrotherapy pool.
Avoid low chairs. Don't bend your hip past 90° flexion. Essentially, keep your knees below hip height.
Get in and out of your car like 'the Queen' would. Keeping your knees together and swivelling on your buttock will help protect your labral repair.