Pregnancy Massage Melbourne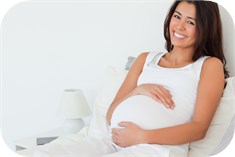 Pregnancy Massage is becoming increasingly popular with expectant mothers. Our remedial massage therapists know the correct way to position and support a mother's body during a massage, and how to modify techniques to suit.
Pregnancy massage can alleviate, back, neck, pelvic and shoulder pain associated with changes in the body during pregnancy. It assists to decrease swelling and reduce stress and anxiety. The massage is customised to each clients individual needs.
At our clinic, we have a specifically designed pregnancy massage pillow, so your belly fits snugly into the space, allowing you to lie safely and comfortably on your stomach! Our pregnant clients find this to be a very comfortable experience. Receiving a pregnancy massage is safe and beneficial during pregnancy. All our massage therapists are experienced in both pregnancy and infant massage.
Our treatment rooms are warm and peaceful, with relaxing music and gentle lighting. It is the ideal setting to unwind and relax. Pregnancy Massage services are only available in the Essendon clinic.
To book an appointment with a pregnancy massage therapist, at a time convenient to you, please BOOK HERE.