SPORTS PHYSIOTHERAPY IN Melbourne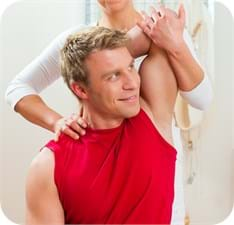 Experts in Sports Injury Physiotherapy
Sporting injuries can be acute, chronic or just a niggle that refuses to disappear. At Melbourne Sports Physiotherapy our Sports Physiotherapists have the skills, expert knowledge and experience to get you back on the field as soon as physically possible. We have treated everyone from elite international athletes to local sports people. Contrary to their title, Sports Physiotherapists just don't treat sports people, they treat everyone. They have an in-depth understanding of biomechanics and movement patterns, which are utilised to get you back to health.

The staff at Melbourne Sports Physiotherapy believe in a rigourous assessment of your injury, followed by a detailed treatment plan. If you don't know what the cause of the pain or problem is, how do you expect to fix it? They key is getting to the cause of the problem, looking for all the potential causes that you may be influencing your potential for a full and speedy recovery.

Once a firm diagnosis is made, then the rehabilitation begins. This may involve hands-on treatment to ease any stiffness and pain, allowing you to move better by removing strain from the overloaded body segments. To make a full sporting recovery, you need to begin the exercise portion of the rehabilitation. "Not more stretches!" we hear you say? No, not more stretches, but control and strength exercises. Our Sports Physios believe heavily in gaining control, then worrying about the pure strength. What is strength if you can't control it? Simple really, but very often overlooked.

At Melbourne Sports Physiotherapy, we commonly treat people from all sporting backgrounds, including:
To book an appointment with one of Melbourne Sports Physiotherapy's sports physiotherapists, please Book Online or call the Essendon , North Melbourne or Blackburn clinics.