Welcome BACK!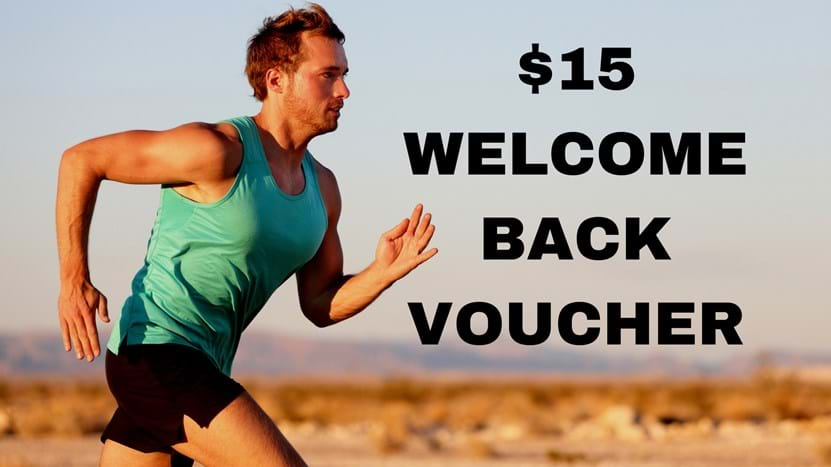 $15 OFF YOUR NEXT CONSULTATION.
Its great to have you back! We're here to help you reach your goals and feel 100%.
At the time of booking, simply mention that you'd like to utilise the $15 'welcome back ' voucher and we'll give you $15 off your next Initial Physiotherapy or Remedial Massage consultation. You must notify our receptionist at the time off booking, or make a note whilst booking online, stating you have a $15 Welcome Back Voucher. Its open 24 hours a day, 7 days a week.
If booking a physiotherapy consultation, please choose 'Initial' appointment, as it has been over 3 months since your last visit and we need the full 30 minutes to discuss your recent history and symptoms. Remedial Massage appointments can be booked as a review appointment.
This is a limited time offer- vouchers expire 3 weeks after you have received our email.
We look forward to seeing you at our clinic and to helping you feel better, faster!
Please give our main rooms a call with any questions you may have on 1300 369 930.
TERMS:
1. Offer not redeemable or exchangeable for cash
2. Not transferrable between other clients
3. Voucher expires within three (3) weeks of receiving the 'Are you 100%?' email.
4. You must notify our receptionist at the time off booking, or make an online note whilst booking online. Failure to do so will void your voucher.
5. Cannot be used with any other voucher or offer at Melbourne Sports Physiotherapy