Weekend Clinical Pilates is here!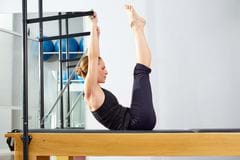 1st April 2016 - Clinical Pilates is now available in the Essendon clinic at Melbourne Sports Physiotherapy on Saturdays. David Heelan is a physiotherapist who runs the Saturday class, which starts at 11.15am.
The class runs for 45 minutes and has a maximum of 4 participants, so book in early to secure your position.
To attend, you'll need to undergo an Clinical Pilates Initial Assessment. Call for more details - 1300 369 930.