New Physiotherapy Blackburn Clinic at Bellbird Hospital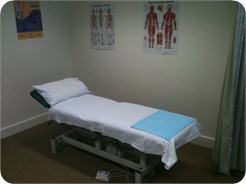 Jan 2014 - Melbourne Sports Physiotherapy has a new physiotherapy clinic location under its name. This clinic is located in Blackburn South, within the private consulting suites of the Bellbird Private Hospital. Mr. Tony Beecroft (Sports Physiotherapist) has been consulting at the clinic since 2010, under the name Advantage Sports Medicine, though has now incorporated the successful clinic under the Melbourne Sports Physiotherapy banner.
Even though the Sports and Spinal Physiotherapy clinic at Bellbird is within the hospital setting, it still operates as an everyday physiotherapy clinic. You don't need a referral to see a physiotherapist in Blackburn, just call the clinic to arrange an appointment on 9845 2330. Online bookings are currently unavailable for the Blackburn physiotherapy clinic. Having a sports physiotherapy clinic located at Bellbird Private Consulting Suites provides all the rehabilitation required for people undergoing arthroscopic surgery for hip, knee and shoulder surgery. Working alongside expert orthopaedic surgeons, the physiotherapists are in direct contact with your surgeon, giving you a seamless rehabilitation period. Your physiotherapist is able to see you pre- operatively, discuss with the surgeon exact post-operative instruction and plans, then implement them. Along the physiotherapy rehabilitation process in Blackburn, your physio is contact with your surgeon for your post operative reviews and progress assessments. We think this is very important in getting the most out of your surgery. Please contact the clinic if you have any questions regarding your physiotherapy treatment in the Bellbird Hospital Consulting Suites in Blackburn South. Our address is 198 Canterbury Rd, Blackburn South VIC 3130 ( on the corner of Blackburn Rd).