New Essendon Location - 934 Mt Alexander Rd!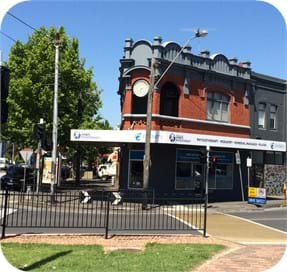 Melbourne Sports Physiotherapy are very excited to announce that we are moving to our excellent new consulting rooms at 934 Mt Alexander Rd, Essendon (corner Fletcher St) on November 29th. We will be open for business as usual from 9am on December 1st, 2014. We will no longer be consulting at Suite 14, 207 Buckley St, Essendon from this date. We are also extremely pleased to be sharing these fabulous new premises with Melbourne Podiatry Clinic, whom are our current co-tenants from Buckley St.
This iconic building is an Essendon landmark, being located at the Essendon Station tram roundabout. Its spacious consulting rooms will allow us to continue to provide you with the high quality physiotherapy and remedial massage services that you've become accustomed to at Melbourne Sports Physiotherapy.
Clinical Pilates will be beginning in the first half of 2015, allowing for a comprehensive treatment approach to our already excellent hands-on and exercise rehabilitation capabilities.
The new Essendon Physiotherapy clinic will have a new phone number- 1300 369 930, though the old number will still be operational for the near future. Best of all, our very popular ONLINE BOOKING service will continue to operate 24 hours a day, 7 days a week, allowing you to book your appointments at your own convenience.
All the staff at Melbourne Sports Physiotherapy look forward to continuing to serve the Essendon area and surrounding suburbs, alongside Andrew and Jackson at Melbourne Podiatry Clinic.