GIVE $10, GET $10.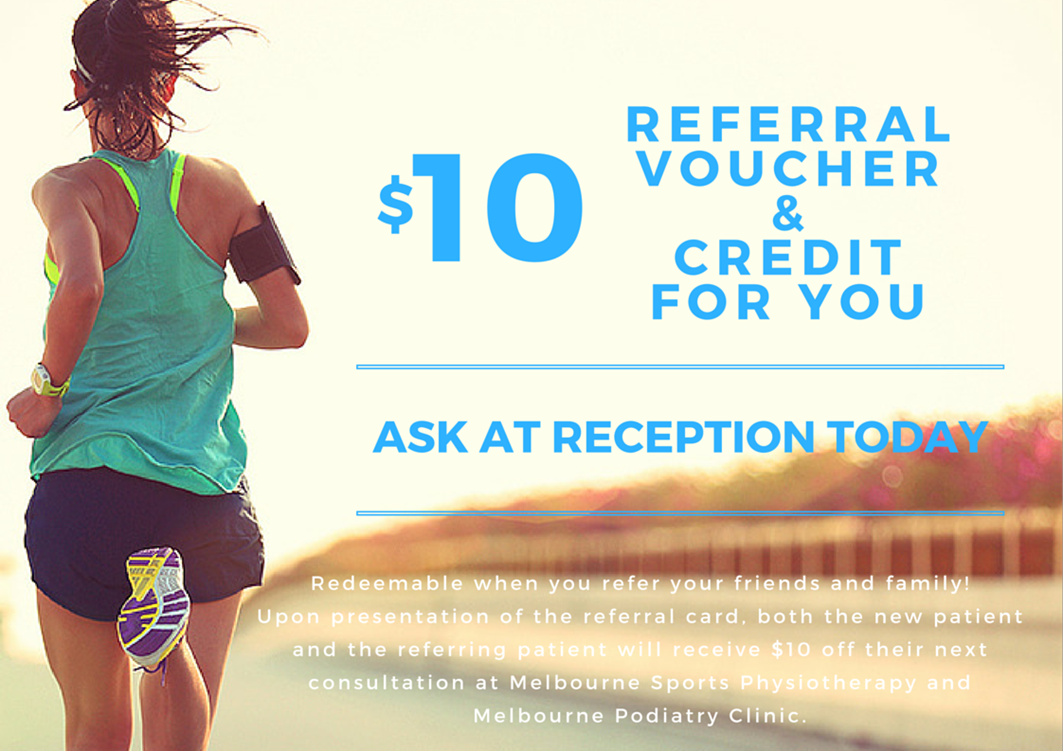 Refer and Earn
We love getting great results with all of our patients! Its what drives us to strive to be excellent therapists. At Melbourne Sports Physiotherapy, we feel that you should be rewarded for helping us help your family and friends. In order to achieve this, we offer a $10 new client referral program.
It's so simple. When you attend our clinic, simply ask at reception for a 'Patient Referral Card'. The reception staff will complete this card with your details. You then need to give this to a family member, friend or colleague who hasn't previously attended the clinic. Upon presentation of the 'Patient Referral Card' at their next appointment, they will receive a $10 discount from their consultation fee, and you, as the referrer, will also receive a $10 credit to your next consultation. The credits can be used for any service that Melbourne Sports Physiotherapy provides, including Physiotherapy, Clinical Pilates or Remedial Massage. Best of all, at the Essendon rooms, you can also use this credit with our co-tenants Melbourne Podiatry Clinic, to have all your foot needs catered for. The referral program is in operation at both the Essendon and Blackburn South rooms. The credits are not redeemable for cash, and are not transferable between individuals. The referral program is not retrospective, and must be announced at the time of consultation.
There is no limit to the amount of times you may refer your friends or family. For instance, if you referred 6 people, you'd have enough credit for a free 30 minute massage!
We'd love to help your family and friends who may have similar conditions to yourself. Our referral program is our way of saying thanks.